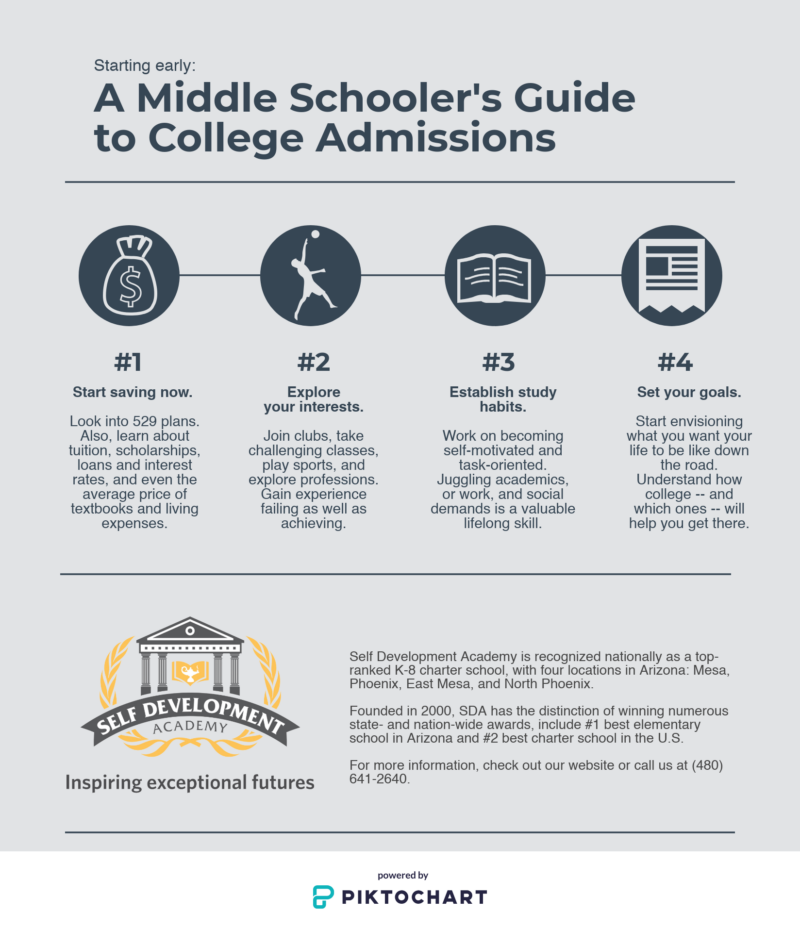 What do you want to be when you grow up? From preschoolers to adults, that question sparks imagination, hope, and a certain drive to plan and work hard. Once your children hit middle school, laying the groundwork for their adulthood takes a new form. Talking about education, now and college admissions, becomes key.
For middle schoolers, now is the perfect time to prepare for college admissions, step by step.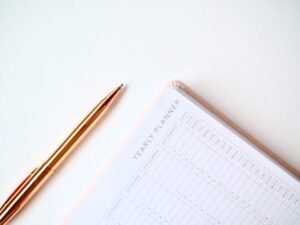 1. Start saving now.
The Arizona Family College Savings Plan is a state-sponsored 529 plan that allows family members or future college students to save money that may later be withdrawn tax-free to pay for education at most accredited colleges. The state also provides an annual income tax deduction for 529 contributions of up to $4,000.
Involve your student in financial discussions as you save money for college, talk about tuition and scholarships, explain loans and interest rates, and look into the average price of textbooks and even living expenses. It's never too early to learn to be fiscally responsible and understand the value of a dollar – or thousands of dollars!
2. Encourage your student to explore her interests.
Some children know what they want to be when they grow up from an early age. Other children need a backup plan in case early-life dream professions like basketball player or nail polisher lose their luster. Either way, let your student try new things, explore different professions, join clubs, take challenging classes, and play sports – even (or especially) when they aren't particularly talented in that area. A well-rounded student who has experience failing as well as achieving will be well prepared for college and life in general.
Additionally, many scholarships and grants are available to students involved in extra-curricular activities in high school. Local businesses and places of worship often offer scholarships to students of diverse backgrounds, race, socioeconomic status, and other experiences. The more involved your student is, the more chances for scholarships and assistance once college hits.
3. Establish study habits now.
The college application process can be grueling. There are deadlines for essays, standardized tests, recommendation letters, applications themselves, college tours, and appointments with academic advisors – all in the midst of rigorous classes, clubs and sports, and the social demands of a high school senior. Train your middle school student now to be self-motivated and task-oriented.
A good place to start is with a quiet, designated study area that includes a calendar or white board for jotting down deadlines and to-do lists. Does your student prefer screens to pen and paper? Allow him to find his own techniques to stay organized, and also let the natural consequences happen with missed deadlines or unfinished homework.
4. Communicate goals and expectations.
Before you enter the rat race of college admissions, make sure it's a good fit for your student. Talk to your student about the options available that are right for your family — before high school even hits — like community college, trade school, an apprenticeship, private university, state school, or the Ivy League. Understand what your student envisions for his life after high school and five, ten, and 20 years down the road. Help him to dream big, set his sights high, and then help him build the staircase to get there.
If you are looking for an excellent charter school from kindergarten through eighth grade, contact us. Self Development Academy is recognized as one of the best K-8 charter schools nationwide. We have several campuses in Arizona: Phoenix, Gilbert, Mesa and Glendale. Find email and phone numbers here. We can't wait to hear from you!