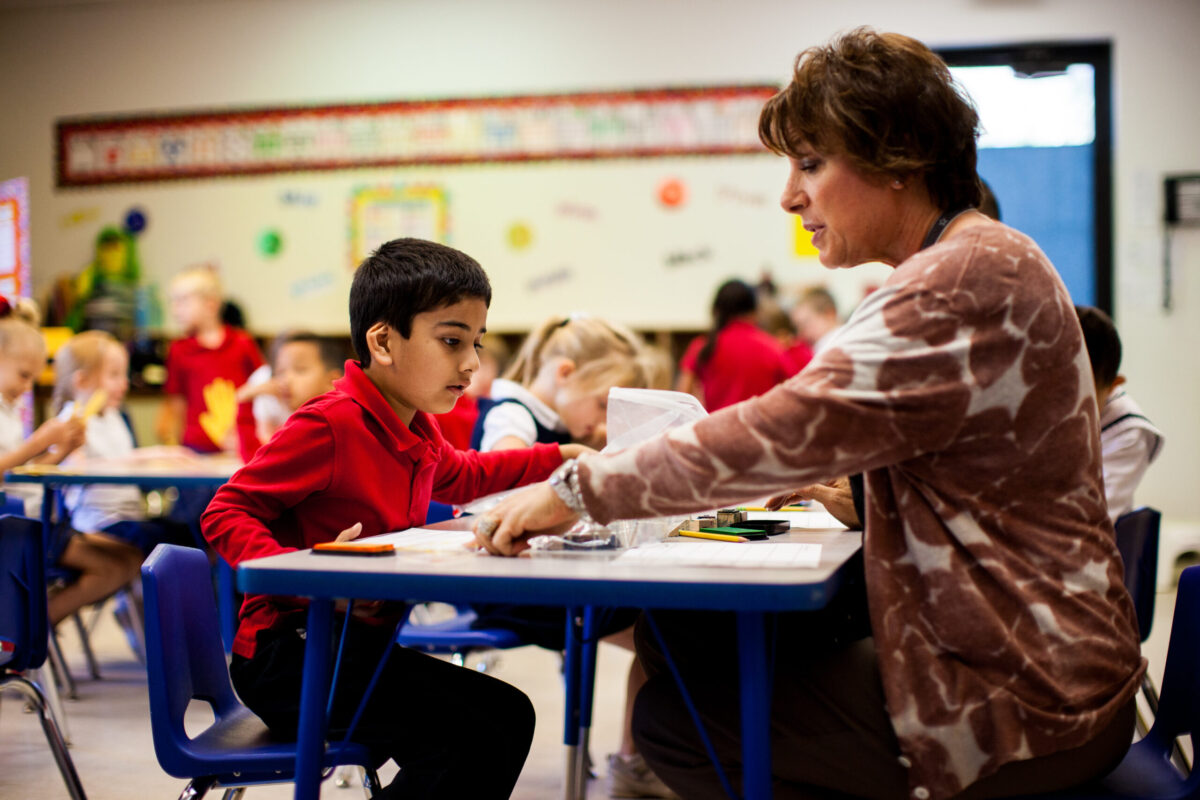 The kindergarten program at Self Development Academy (SDA) prepares each student for first grade, but beyond that, for a lifetime of learning.
"By the end of his/her kindergarten year, most are reading fluently — with tremendous expression — if not several grade levels ahead," said Mrs. Kathi Haschke, SDA lead kindergarten teacher.
In addition, outgoing kindergarten students author and edit their own books and write grammatically complete sentences, with a strong foundation in mathematical thinking, including math facts, word problems, and even abstract algebra.
As kindergartners tackled their first day of school on Aug. 3, they came armed with crisp uniforms, fresh supplies, and unbridled excitement. An awarding-winning K-8 charter school that's been part of the Mesa community for decades, SDA sparks confidence and a sense of community for parents as well.
According to Haschke, one unique aspect of SDA kindergarten is it's 4-hour a day schedule. The half-day program allows teachers to provide an environment that nurtures while also igniting curiosity and thinking.
Philosophy of education
Haschke has been teaching for 23 years, 12 of those at SDA. "I love being at SDA in large part because of Dr. Majeed and her philosophy of education," Haschke said.
Dr. Anjum Majeed, SDA founder and superintendent, has dedicated her life to bettering her communities by providing top-notch education and mentoring teachers to be the best version of themselves. Majeed's philosophy of education results in curriculum that teaches a grade higher than traditional Arizona schools, which is enhanced with enriched instructional methods, one-on-one tutoring, and small-group interventions.
Kindergarten program specifics
The kindergarten program specifically focuses on phonics, reading, penmanship, grammar, writing, spelling, vocabulary, math, and math facts, according to Haschke. "We accomplish so much in such a short amount of time," she said.
While first grade is the immediate goal for kindergarten students, teachers have in mind concept mastery and academic success that includes critical thinking, curiosity, and creativity.
"The SDA kindergarten program prepares children to learn key fields of study and key values of the community that prepare students to promote to first grade," said Majeed. "The school's success focuses on teaching children the advanced curriculum using a structured and methodical approach. The classroom concentrates on mastery of math, reading and writing."
SDA's early education intervention meets all students through their learning styles. SDA uses multi-sensory phonics instruction, focusing on visual, auditory, tactile and kinesthetic techniques. Students learn phonemic awareness, sight words, spelling, writing and reading within each lesson.
"Although the curriculum is accelerated and rigorous, I make it a point to ensure that my students have fun while learning. We often have centers, play learning games, have frequent brain breaks throughout the day, etc.," Haschke said. "It's so rewarding to see many of my students come into kindergarten not knowing his/her alphabet or letter sounds and watching them grow and learn throughout the school year."
Kindergarten teachers and staff
The teachers and staff at SDA provide a nurturing environment that ignites curiosity and a love of learning. The other kindergarten teachers include Ms. Melody Oliver, who recently came back from retirement after teaching with SDA for more than 28 years, Ms. Skype, and Ms. Angel Connel.
"I chose education because I wanted to make a difference in children's lives and be a wonderful role model to all of my students that I've taught over the years," Haschke said. "I especially love the enthusiasm and excitement on a child's face when they learn new things."
For more information regarding Self Development Academy, please contact us at (480) 641-2640. The school is located at 1709 N. Greenfield Road, Mesa, AZ 85205. (Article submitted to UpClose for publication).